fewyn
at
2012-02-01 16:32:26
Table of Contents
Star Wars: The Old Republic has now been out for over a month now and our developers here at Torhead have created a slew of new features and have done a lot of bug fixing.
Therefore, without further ado here is a list of the new features!
Submit Data Tab

This is one of the biggest features we have launched recently and it comes in two parts. First up is the Data Removal button, users can now report items on the database that don't actually exist and admins will check it then it will item/npc/ability will no longer show up in searches.
The second part is the most important part and only the first phase of the roll out, users can now link items to NPCs as item drops. For example, let us say you find this super awesome rare NPC and you and your friends get together to kill him and he drops Hybrid Power Cannon - all you have to do to get it added to the NPCs item drops page is go to the submit data tab and click the add button, just find the corresponding NPC it dropped from and it will show up on the site.
Item Categories Revamp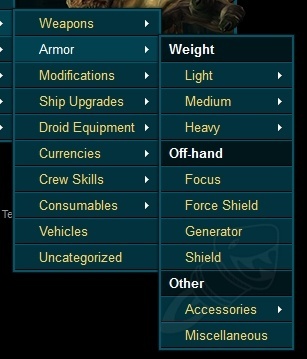 Recently we've done a complete revamp of our category system and added a bunch of new ones in the process, everything from Ship Upgrades to Companion Gifts and even Vehicles.
Random Prefixes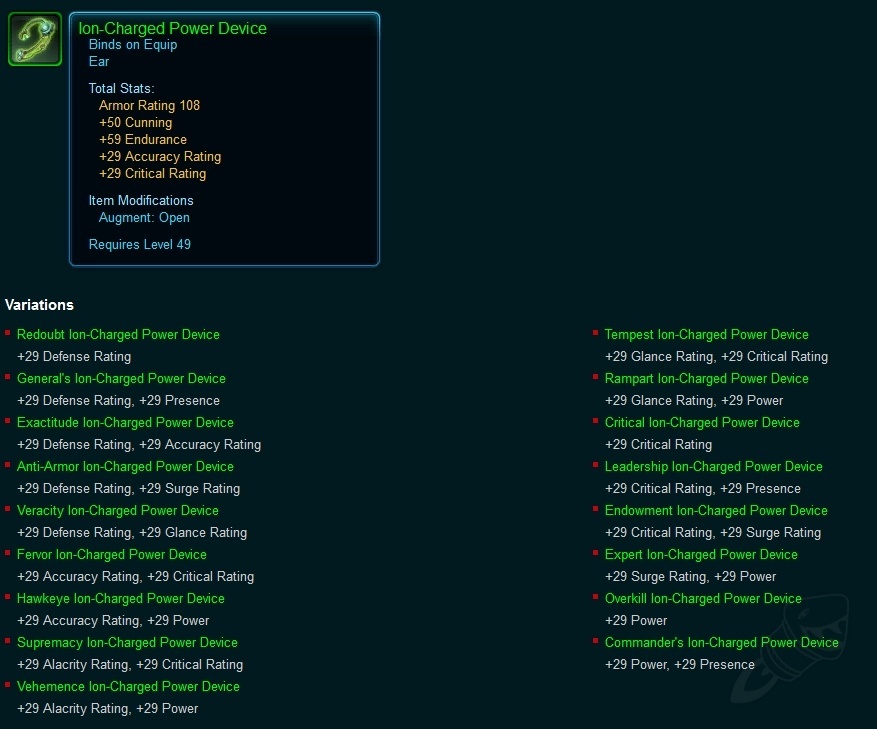 While not 100% complete feature we have added the ability to display random prefixes on items that have them. This allows Torhead Team to manually add the random prefixes to items throughout the database. So if you want to help with this effort head over to this forum thread to give us a hand.
Item Page Revamp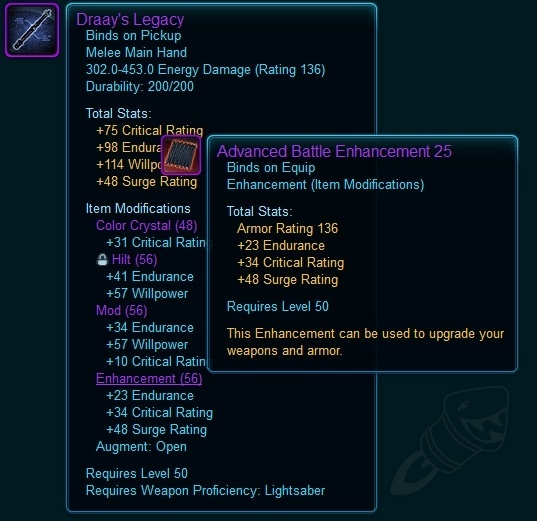 Another one of our revamps allowed us to display the item modifications that come preinstalled in all kinds of gear. Riding along with this revamp is the ability to display which modification slots come locked with certain pieces of gear.
Companion Pages
Since launch the content team here at Torhead has been working on improving Companion pages, with the help of our designers and developers we have added a new Companion Page that allows easy access to all the companions info pages. Even further, we have added to every companion page a table of the companions likes and dislikes (some of those affection ratings do not happen until later in your class story).
New Class Forums (and Crew Skills)

We launched a new selection of forums a few weeks ago, each set of mirrored classes now have their own forums along with Crew Skills and Missions.
Updated Ability Info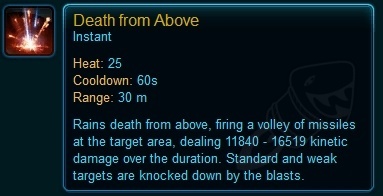 While us having damage and healing numbers on abilities it has always been slightly off (and in some cases way off) but with recent research we've greatly improved the numbers, just remember all the numbers in the tooltips are based on a fresh level 50 in green gear.
Along with that update, we also added a much-requested bit of information - cooldowns.
Comment Voting

You may have noticed this has been around for a while but this was launched just a few days after the official launch of SWTOR. Just like at Wowhead upvoting a comment moves it closer to the top of the page and downvoting it brings it further down the page.
Coming Soon...
While we do not typically talk about what features we have coming soon we can say you should be seeing more familiar additions from Wowhead in the near future, like the Latest Addition page. In addition, more data submission tools are in the works for vendor and mission rewards.
So keep checking back you never know when we might add something new!